RE: HowTo set keyframes for PosXYZ/RotXYZ/ScaleXYZ with a script
Hi @ferdinand @iplai ,
Yes, sure, I already assigned hotkeys to my 9 scripts and made a folded palette and rendered 9 super sweet icons

I was very disappointed as I found out, C4D does not support Numpad keys. So, the whole numpad keys are not useable. I mean, I can use them, but then I have to find new hotkeys for the commands I already use on the usual keys 1-9. Very sad
The most important point for an animator is to key the desired channel as fast as possible. I just got used to use the numpad keys 1-3 for position, 4-6 for rotation, 7-9 for scaling in other 3D tools. They perfectly ordered for those commands.
But, the pop up idea is very interesting and I will have a look. Concerning the GUI... yes, I already saw something like this. I think the GUI builder is inside C4D, isn't it? I am not sure, atm.
Btw, is it possible to set a "real name" for a script? atm, everywhere it just shows the filename.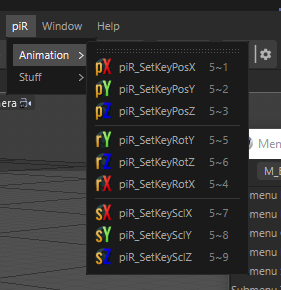 Cheers,
Vannipo
posted in Cinema 4D SDK
•