RE: Control whether a redshift shader node port is collapsed or not.
Hello @ferdinand
Thank you for your detailed answer.
What do you want to do with them?
If we create a Standard Material Node, and connect Texture nodes to "Subsurface > Color" and "Subsurface > Weight" the resulting Node looks like this: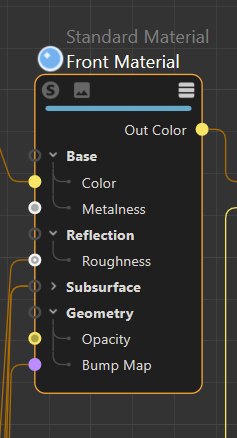 We however want that all ports that have a connection are visible. So that the node looks this way instead: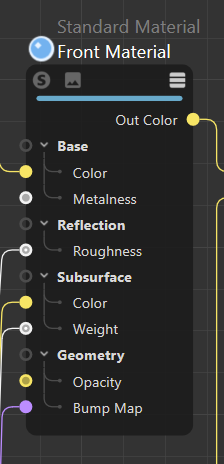 That's the reason why we would like to control wheter the a layer like "Subsurface" is collapsed/closed or not.
But if I understand this part of your answer correctly:
That is not possible/intended just as for example you are not supposed to set directly the position of a node.
it is at least not possible/intended to control those layers directly.
Is there a way to in general tell a node - or the whole graph - that all connected ports should be shown, so that we have the desired result without controlling the layers manually?
Best,
Till Niese
posted in Cinema 4D SDK
•