Dear Developpers,
I am trying to implement a Quicktab Gui into my Plugin. While i get some User interface that is somehow usable, I see some content getting mixed up in the gui after multi selecting some tabs.
It might be a simple thing as an ID not matching, but I am a little bit lost hence its basically just the SDK example i use.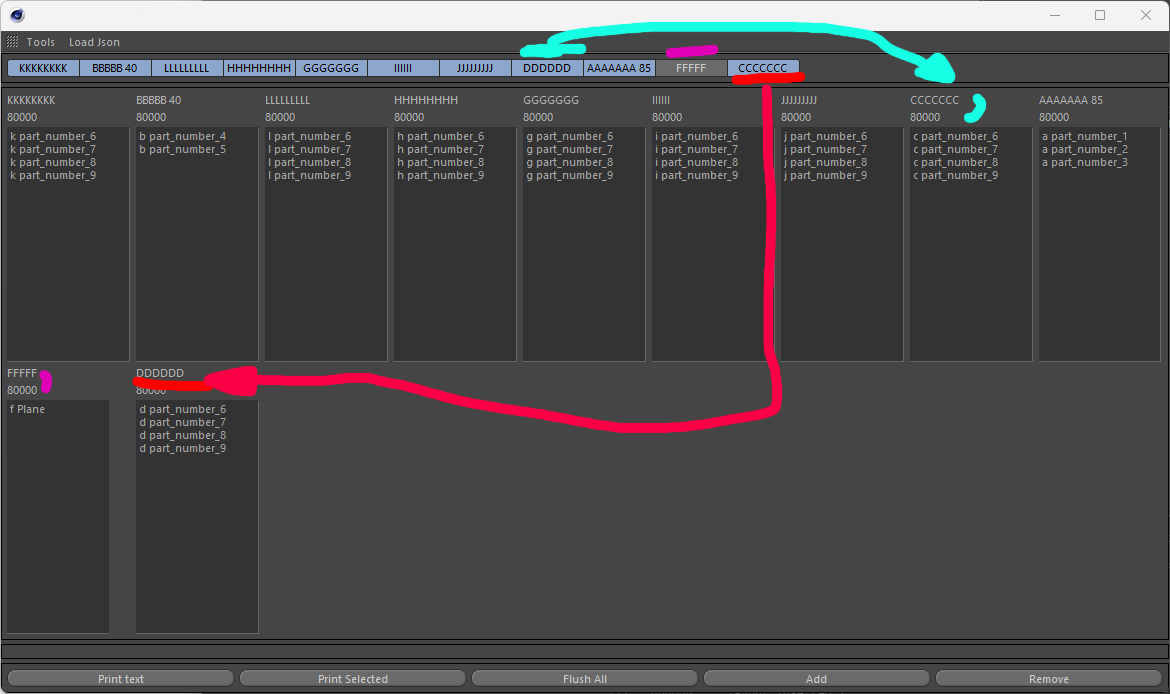 as you can see FFFF is deselected but shown
DDDD and CCCC are switched up ....
and no its not just a row shuffle .. deselecting DDD hides CCC
deselecting more result in more gui disintegration ...
Can you confirm that applying more content results in some weird stuff? Or what is your hunch .,... where to look ?
Thank you for your time.
cheers mogh
only little was added .... rest is basically the SDK example ....
class CustomGroup(c4d.gui.SubDialog):
    
    """A SubDialog to display the passed string, its used as example for the actual content of a Tab"""
    def __init__(self, material, parts):
        self._material = material
        self._parts = '\n'.join(parts)

    def CreateLayout(self):
        
        
        self.AddStaticText(CUSTOM_GROUP_ID_TEXT_BASE + 1 , flags=c4d.BFH_LEFT | c4d.BFV_TOP | c4d.BFH_FIT | c4d.BFV_FIT, name=self._material)
        self.AddStaticText(CUSTOM_GROUP_ID_TEXT_BASE + 2 , flags=c4d.BFH_LEFT | c4d.BFV_TOP | c4d.BFH_FIT | c4d.BFV_FIT, name=CUSTOM_GROUP_ID_TEXT_BASE)
        self.AddMultiLineEditText(CUSTOM_GROUP_ID_TEXT_BASE + 3, flags=c4d.BFH_LEFT | c4d.BFV_TOP | c4d.BFH_SCALEFIT | c4d.BFV_SCALEFIT, initw=0, inith=0, style=c4d.DR_MULTILINE_WORDWRAP)
        self.SetString(CUSTOM_GROUP_ID_TEXT_BASE + 3, value=self._parts)

        #for i, parts in enumerate(self._parts):
        #    self.AddStaticText(CUSTOM_GROUP_ID_TEXT_BASE + i, c4d.BFH_SCALEFIT, name=parts)
        
        return True


    def Populate(self):
        doc = c4d.documents.GetActiveDocument()
        directory, _ = os.path.split(__file__)
        poart_json_file = os.path.join(directory, "default_asignment.json")
        material_ids, materials_dict = read_parts_json(poart_json_file)

        self.FlushAllTabs() # clear the GUI

        print( str( material_ids))
        print("-"*80)

        for material_id in materials_dict:
            part_list = materials_dict[material_id]

            #print( str(material_id), str(part_list) )

            ### Tabs
            ##################################################
            
            tab_Content = CustomGroup(str(material_id), part_list)
            self.AppendTab(str(material_id), tab_Content, False)