Dear Community,
Klaus has written a tree generator plugin for Cinema 4D. The plugin is free of charge and available on his website.
The plugin has been written in C++ and was compiled for R25 Windows. There is currently only a preliminary documentation in German (the section below), a more extensive documentation is in the working. Comments and critiques are welcomed by the author.
Cheers,
Ferdinand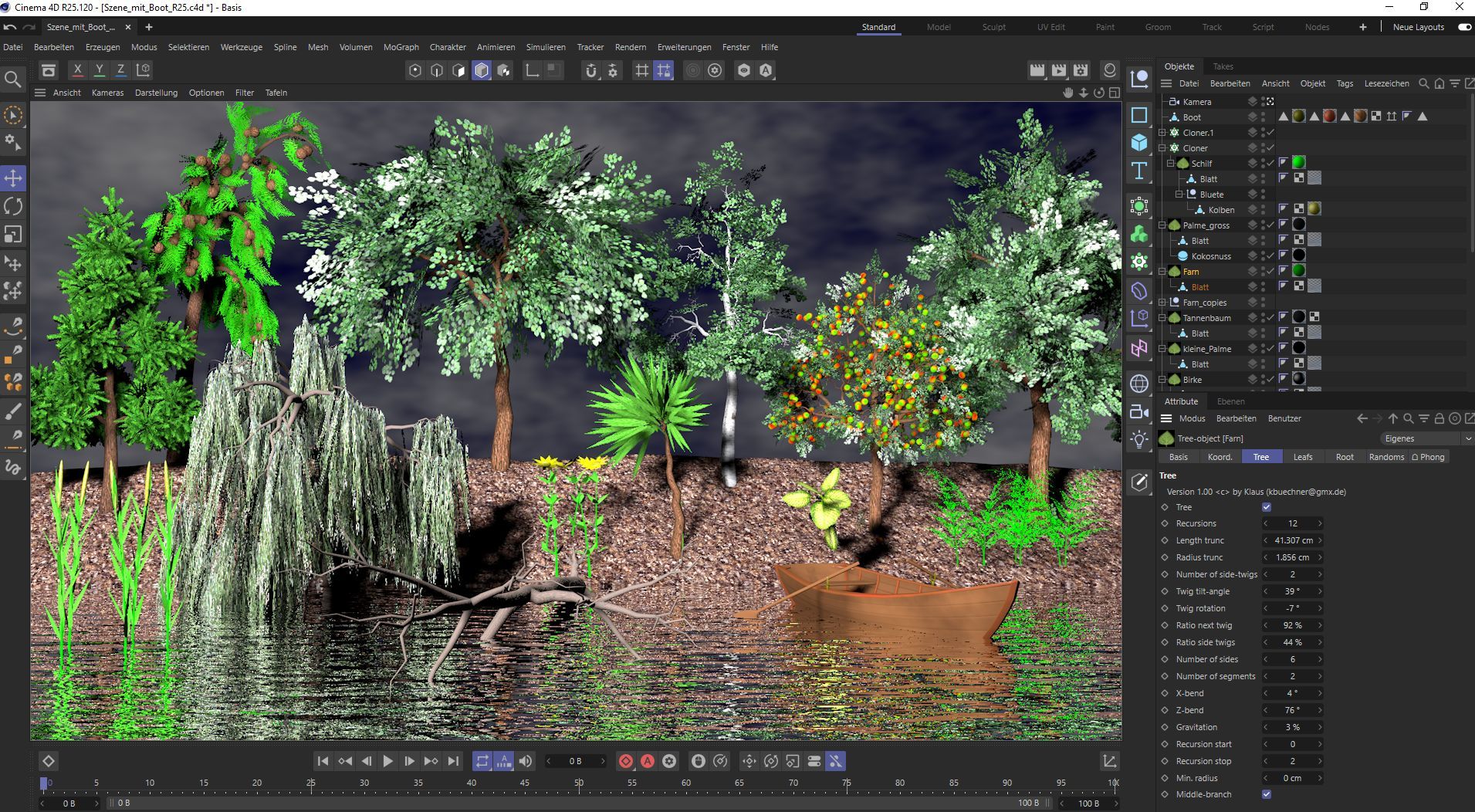 edited by @ferdinand, see original message below.
---
Guten Tag,
ich habe mir C4D R25 gekauft. Ich befürchte, das war die letzte Gelegenheit eine Permanent-Lizenz zu erwerben. Ich habe einen Baum-Generator programmiert, mit dem realitätsnahe Bäume und andere Pflanzen mit Blättern o.Ä. erzeugt werden können (siehe Beispiel-Rendering).Ob der Generator für andere C4D-Versionen funktioniert, kann ich leider nicht testen.
Nach dem Herunterladen und Entpacken der anhängenden Zip-Datei muss das Verzeichnis irgendwo hin gespeichert werden. Dann in Bearbeiten->Programm-Voreinstellungen->Plugins den Pfad zu dem Plugin eintragen. Bei mir ist das z.B: D:\Prog_C\Visual_C_2019\C4D25_Plugins\C4D25_sdk\plugins\C4D25_Plugin_Tree
Beim nächsten Programmstart müsste das Ding dann im Menüeintrag "Erweiterungen" erscheinen. Es ist eine uneingeschränkte Vollversion und kostenlos. An dem Handbuch arbeite ich noch. Derweil kann man erstmal die mitgelieferte C4D-Beispieldatei ansehen und damit rumspielen.
Beim Aufruf des Plugins ist ein kahler Baum zu sehen. Textur kann nach Belieben hinzugefügt werden. Blätter, Früchte o.Ä. müssen als Unterobjekt definiert werden. Es können ein oder zwei Unterobjekte eingetragen werden. Diese werden mit dem Parameter "Leafs->Weight_Obj1" zueinander ins Verhältnis gesetzt. Z.B. 100% bedeutet, dass nur das erste Objekt gezeigt wird.
Die Blätter sind Renderinstanzen. Leider habe ich es noch nicht hinbekommen, dass das Ursprungsobjekt unsichtbar gemacht werden kann, ohne dass alle Instanzen verschwinden. Also muss man es erstmal unter dem Boden oder im Blätterwerk verstecken.
Für Kritiken, Fehlermeldungen und Vorschläge wäre ich dankbar.
Viel Spaß,
Klaus aus Berlin
http://www.klausfilm.bplaced.net/TreeGenerator/Website_Treegenerator.html