Hi,
We create Redshift shader nodes programmatically in C++ and would like to control whether groups like Subsurface are collapsed or not: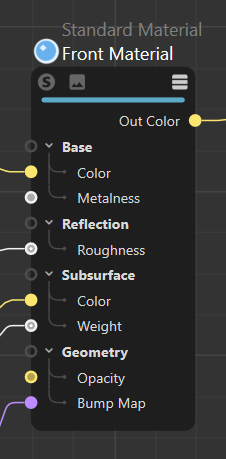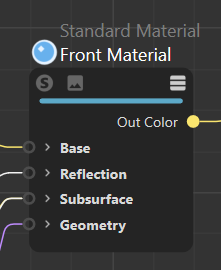 Setting up the node space, getting its graph, creating the nodes and their connections works fine.
I however don't know how to find the groups like Base, Reflection, Subsurface, ... and how to set whether those are collapsed or not.
Based on GraphModelInterface Class Reference I thought that Base, Reflection, Subsurface, ... might be NODE_KIND::INPORT with the other ports as children, however when I iterate over the ports of the node I can only find their child nodes.
So for the node in the below reduced code example, how do I get e.g. the Subsurface "port-group" and how to I control whether it is collapsed or not?
maxon::Id nodeSpaceID = maxon::Id("com.redshift3d.redshift4c4d.class.nodespace");
const maxon::nodes::NodesGraphModelRef& graph = nodeMaterial->GetGraph(nodeSpaceID) iferr_return;

maxon::GraphNode node = graph.AddChild(maxon::Id(), maxon::Id("com.redshift3d.redshift4c4d.nodes.core.standardmaterial"), maxon::DataDictionary()) iferr_return;


Best
Till Niese