hello,guys
there is some problem with CUSTOMGUI_BITMAPBUTTON, I want to use it to create a file browser.
my envirment: c4d R26, Python
1.width self-adaptive,when I change the dialog width,the number of BitmapButton in row could be changed by the dialog width。



just like this.
here is my demo picture:face_with_thermometer: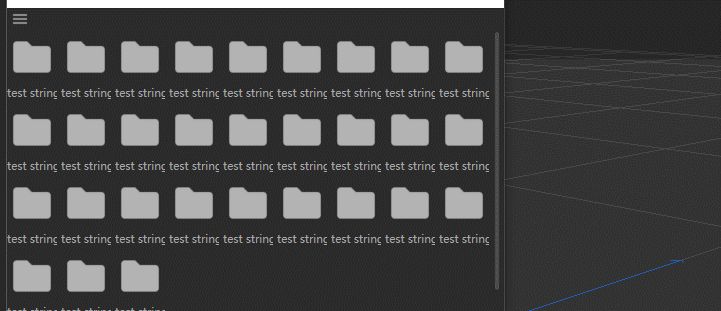 2.can I capture the double click event Message with bitmapbutton? I want entry the directory when I double click the directory bitmapbutton。
3.the bottom of the directory bitmapbutton Text
when the text is too long, it will be hide in the end
exp. Text is "electric wire"
I want Is Shows "delctric..."
but is Shows "electric w"
how could I measure the width,or Is there have some other solution?
thanks very much for reading! have a good day!
here is my demo code
import c4d

class Test1Dialog(c4d.gui.GeDialog):
    ID_BITMAP_BUTTON = 10000
    ID_BITMAP_TEXT = 20000
    BITMAP_WIDTH = 50

    def CreateLayout(self):
        """Creates the layout for the dialog.
        """
        if self.ScrollGroupBegin(0, c4d.BFH_SCALEFIT | c4d.BFV_SCALEFIT, c4d.SCROLLGROUP_VERT  |  c4d.SCROLLGROUP_AUTOVERT, 80, 80):
            if self.GroupBegin(1, c4d.BFH_LEFT | c4d.BFV_TOP, 0, 0, "", c4d.BFV_GRIDGROUP_EQUALCOLS | c4d.BFV_GRIDGROUP_EQUALROWS | c4d.BFV_DIALOG_BAR_VERT | c4d.BFV_LAYOUTGROUP_PALETTEOUTLINES):
                for i in range(30):
                    bc = c4d.BaseContainer()
                    bc[c4d.BITMAPBUTTON_BUTTON] = True
                    bc[c4d.BITMAPBUTTON_ICONID1] = 1052837
                    bc[c4d.BITMAPBUTTON_BACKCOLOR] = c4d.COLOR_BG
                    bc[c4d.BITMAPBUTTON_DISABLE_FADING] = False
                    bc[c4d.BITMAPBUTTON_FORCE_SIZE] = Test1Dialog.BITMAP_WIDTH
                    if self.GroupBegin(0, c4d.BFH_LEFT, 1, 2):
                        self.AddCustomGui(Test1Dialog.ID_BITMAP_BUTTON + i, c4d.CUSTOMGUI_BITMAPBUTTON, "", c4d.BFH_CENTER | c4d.BFV_CENTER, 0, 0, bc)
                        self.AddStaticText(id= Test1Dialog.ID_BITMAP_TEXT + i,flags=c4d.BFH_SCALEFIT,initw=Test1Dialog.BITMAP_WIDTH,inith=0,name="test string number" + str(i) ,borderstyle=0)
                    self.GroupEnd()
            self.GroupEnd()
        self.GroupEnd()
        self.AddDlgGroup(c4d.DLG_OK | c4d.DLG_CANCEL)
        return True

def main():
    global dialog
    dialog = Test1Dialog()
    dialog.Open(dlgtype=c4d.DLG_TYPE_ASYNC, defaultw=-2, defaulth=-2)

if __name__ == '__main__':
    main()