Hello @indexofrefraction,
Thank you for reaching out to us. Copying a shader is pretty straight forward in the classic API of Cinema 4D, as shaders carry all their dependencies as children (see BaseList2D.GetFirstShader() for details on the data model of materials and shaders). As indicated by yourself, you can do this with c4d.C4DAtom.GetClone(). Find an example at the end of my posting. The 'recursive' quality you are looking for is already guaranteed by the hierarchical data model of shaders.
is material.InsertShader(subshader, xlayer) the same as xlayer.InsertShader(subshader) ?
No, the former defines an insertion point, after the shader xlayer, the latter does not and defaults to inserting the new shader at the top of the shader c4d.GeListHead of material. In practice, this should however make no difference, as shaders should not be identified by their index/position.
Cheers,
Ferdinand
The result: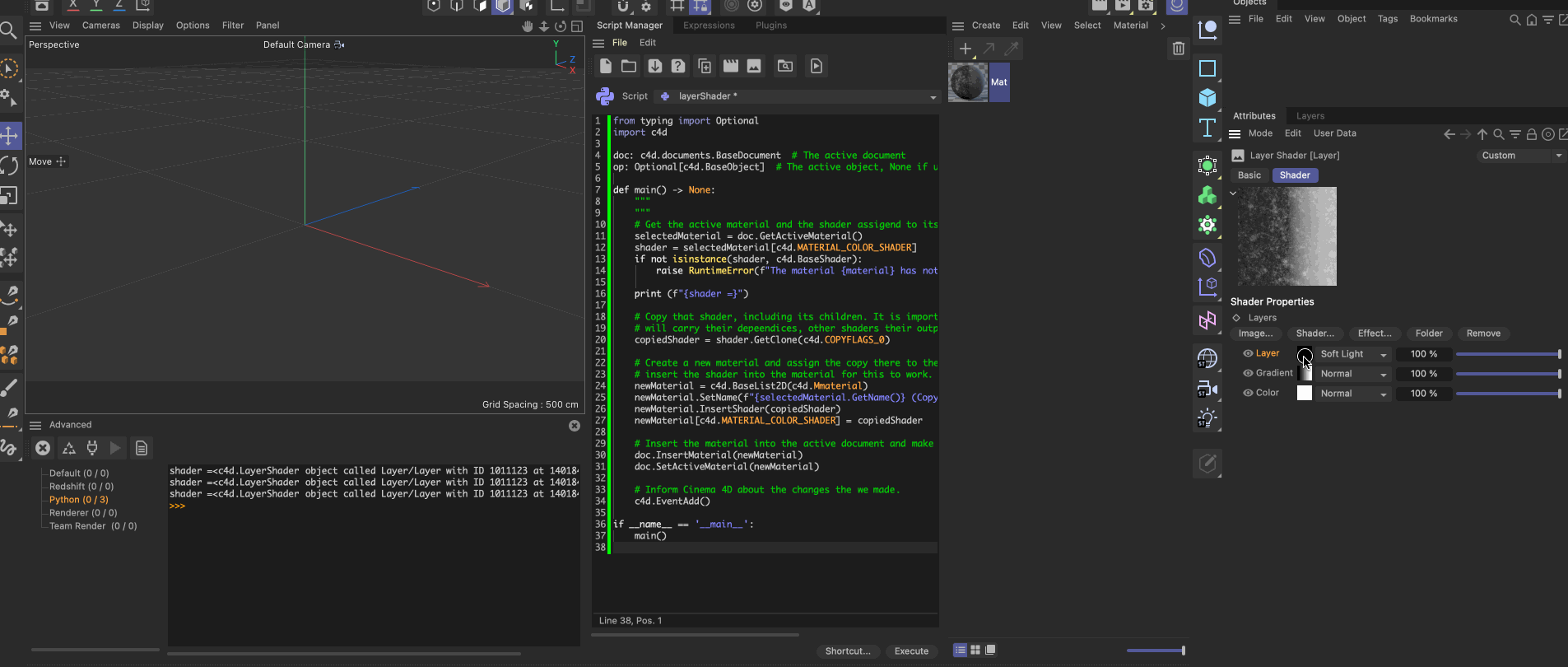 The code:
"""Demonstrates how to copy a shader from one material to another.

Run this example as a Script Manger script with a material selected.
"""

from typing import Optional
import c4d

doc: c4d.documents.BaseDocument  # The active document
op: Optional[c4d.BaseObject]  # The active object, None if unselected

def main() -> None:
    """
    """
    # Get the active material and the shader assigned to its color channel.
    selectedMaterial = doc.GetActiveMaterial()
    shader = selectedMaterial[c4d.MATERIAL_COLOR_SHADER]
    if not isinstance(shader, c4d.BaseShader):
        raise RuntimeError(f"The material {material} has no shader assigned to its color channel.")

    print (f"{shader =}")

    # Copy that shader, including its children. It is important to include the children, as shaders 
    # will carry their dependences, other shaders their output relies on, as children.
    copiedShader = shader.GetClone(c4d.COPYFLAGS_0)

    # Create a new material and assign the copy there to the color channel. It is important to
    # insert the shader into the material for this to work.
    newMaterial = c4d.BaseList2D(c4d.Mmaterial)
    newMaterial.SetName(f"{selectedMaterial.GetName()} (Copy)")
    newMaterial.InsertShader(copiedShader)
    newMaterial[c4d.MATERIAL_COLOR_SHADER] = copiedShader

    # Insert the material into the active document and make it the active material.
    doc.InsertMaterial(newMaterial)
    doc.SetActiveMaterial(newMaterial)

    # Inform Cinema 4D about the changes the we made.
    c4d.EventAdd()

if __name__ == '__main__':
    main()