Hello dear people,
After hours of trying, hoping, searching and crying I post again.
I want to read out the complete description of a GvNode. Reading out parameters and sub-channels I got to work like this.
desc = node.GetDescription(c4d.DESCFLAGS_DESC_NONE) #c4d.Description
    for bc, paramid, groupid in  desc:
        #the ID of a parameter
        name = bc[c4d.DESC_IDENT]

        subd = c4d.Description()
            if subd.LoadDescription(paramid[0].dtype):
                for bcB, paramidB, groupidB in  subd:
                    #the ID of a sub-channel
                    subname = bcB[c4d.DESC_IDENT]

through this I also can get some ports. For example I can get GV_POINT_INPUT_OBJECT and GV_POINT_INPUT_POINT. (maybe because they are static? but on the other hand GV_POINT_OUTPUT_POINT is as well).
But other ports I do not get. It seems to me I should get them, since they are in the description res file.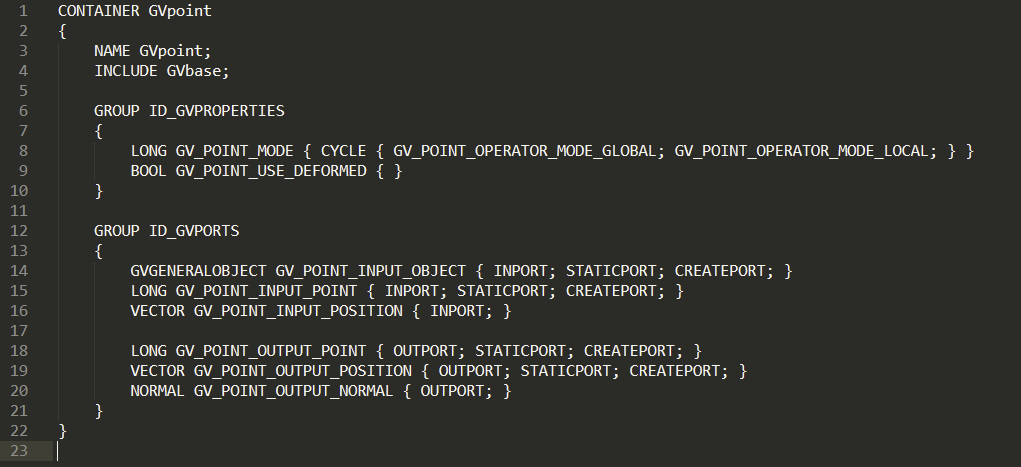 Does anybody have an idea how to get all the IDs for all avalible ports (exposed and unexposed)? It needs to be programmatically too.
Cheers,
David