Hello,
Thank you for the taking the time to look at this thread, i'm a little new to Cinema4d development, please excuse any first time mistakes : )
I'm using R23, c++ and I have an ObjectData plugin which represents a volume and I'd like to draw it in the viewport in different ways, one of which is colored triangles at the center of each voxel of my volume, oriented to look at the camera. Like so: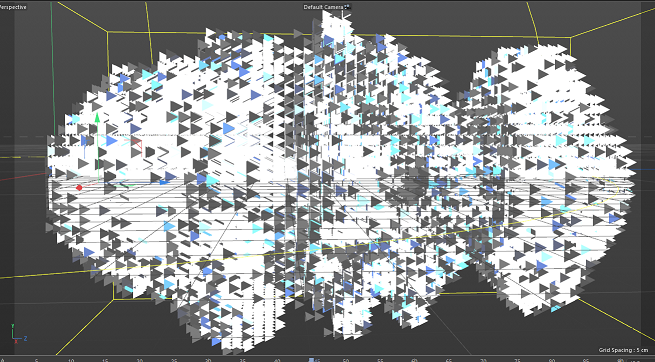 I have found a few ways to achieve this in C4D
First is triangle by triangle with BaseDraw::DrawPolygon() (the above screenshot). This provides me per vertex colors and i can modify the triangle vertices to be oriented towards the camera before drawing. So it works but is slow when the triangles become 100k or more.
The second method I found is by caching a PolygonObject* in GetVirtualObjects() with the same polygon data from the previous method. This is quite fast and seems to support per vertex color. However the Tlookatcamera tag seems to treat all the polygons as a single object and orients them in a weird way like so: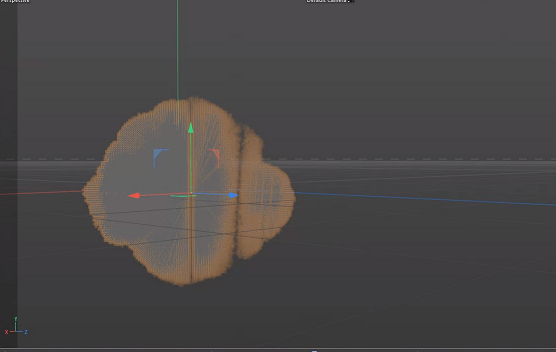 So my first question is whether it's possible to orient each polygon in the PolygonObject* separately towards the camera, without generating geometry over and over again like in the first method?
I also found your VolumeBuilder, which I fed with the PolygonObject* from the previous method, and this provided me with a cool representation
My second question is for the volume builder and whether it's possible to pass a color to each of the planes that the volume is made up of ?
Regards,
Georgi.