Hi again!
I'm generating a dynamic menu and was playing around with icons. Since you have to register seperate icon ids this is probably too complicated. I had an interesting thing happen though I wanted to ask about.
I don't think it is documented, but I saw on old forum post where someone was saying you could add an icon to a submenu by naming the entry [name]&i[iconID]&. When looping through menus, giving one of the entries an icon like that the subsequent entries also get that icon, even though they are named the same way the first ones were.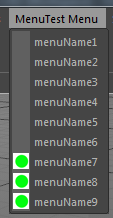 Entry seven was given the icon submenu.SetString(entryID, name + "&i" + str(iconID) + "&"),
all the others are named with identical code: submenu.SetString(entryID, name).
Anyone got any insight into what's happening here or how to use this technique correctly?